I posted one of these 'Dream Beauty Box' posts way back when I first started my blog and I really enjoyed writing it so thought I would do another one!
I used to subscribe to Glossy Box and loved the surprise of getting treats in the posts every month but I found that a lot of the things I was sent I just didn't use so I cancelled my subscription.
The idea of this post is to create what you would want to see in a beauty box if you got to chose. When thinking about what would go in my Dream Box I do like to make it realistic for example the cost of the items and the size etc in comparison to the other beauty boxes that are available.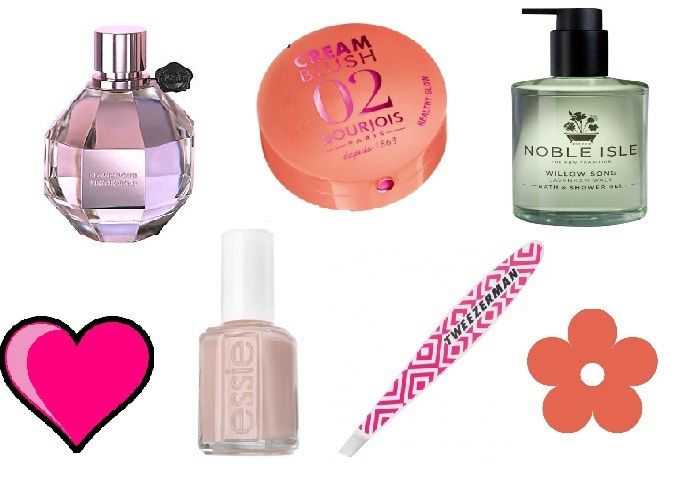 1.

Viktor and Rolf Flower Bomb – This would have to be a sample size obviously but I absolutely love the smell of this. I tried it in Debenhams and just thought it was amazing, I could not stop sniffing my wrists all evening (weirdo I know!). However if you saw my perfume collection at the moment you would see why I cannot justify buying myself a full bottle of this so a sample would be lovely!
2.

Bourjois Cream Blush in Shade 2 – I have been eyeing this up for a while and just have not bought it for some reason. I think it might be because I have never used a coral blush and am a bit unsure as to what it would look like on my skin as I am quite pale. So if it came in a beauty box I would have no excuse not to try it!
3. Noble Isle Willow Song Bath & Shower Gel – I tried another shower gel from Noble Isle in a previous Glossy Box. It was the Summer Rising scent and it was so delicious, so fresh and summery. Willow Song is described as a '

romantic fragrance, remindful of floaty green florals and mellow woods', I love the sound of this!
4.
Essie Nail Polish in 'Ballet Slippers' – I love Essie nail polishes I have found the colours and quality are fantastic. This is the next one on my lust list!
5.
Mini Tweezerman Tweezers – I have had my current pair of tweezers for years and these Tweezerman ones are so funky, I think they would fit right in on my dres
sing table.
I would love to see if you do one of these posts, leave your links below!